Photos
---
Click on icon above to open larger image in new window,
then right click (PC) or control+click (Mac) and select "Save Image…".
---
News Release – Live at the House of Harmony

Click here for the one page sheet pdf with track listings for the release of the new album "Live at the House of Harmony".
---
Articles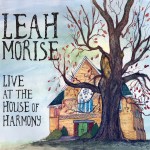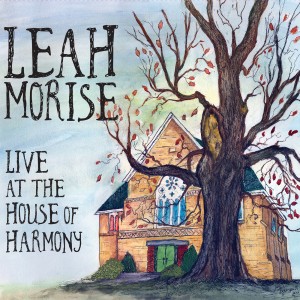 CD Review – Penguin Eggs Magazine
Review by Barry Hammond
Leah Morise
Live At The House of Harmony (Independent)
Recorded at their renovated historic church in Fingal, ON, (near London) singer/songwriter/guitarist Leah Morise and her partner, trumpeter Mike Bourgeault, have put together an atmospheric disc of her songs for her second solo release (following up on 2006's Take Me Anywhere). Recorded and mixed by Adam Plante, who does a nice job of capturing the relaxed, upbeat, informal, fine-musicians-among-friends live setting, the disc has a great sound that lets her playful personality come through. A lot of the good feeling comes from the gently swinging bass of Steve Clark and the sparse, tasteful  drums of Daniel Baerg but Bourgeault's muted trumpet adds unexpected accents that really make some of the songs special. Jim Johnston's acoustic guitar is especially rich on the track Stranded. Morise has a resonant and pleasantly melodic voice with a slight, throaty crunch when she needs it and her songs catch you unawares with their unexpected combinations of words and line lengths so you're always arrested by the individuality of her music. A really ear-friendly disc.
– By Barry Hammond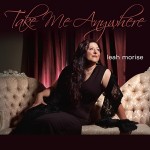 Take Me Anywhere – 2006
CD Review – Nicole Laidler
Leah Morise – Take Me Anywhere (Indie)
When I first slipped Leah Morise's Take Me Anywhere into my CD player, I assumed I was listening to an album of cover tunes.
There were none of the awkward lyrics, unfinished musical ideas that can mar an independently produced debut album. As an added bonus, the singing was perfectly in tune, the arrangements tasteful, the instrumental playing tight and the production quality first class.
So when I took a closer look at the liner notes, I was pleasantly surprised to discover 12 of the 13 tracks were written by Morise herself. And as I later discovered, the album's opening number, "Heart of Many Colours," was written for the singer by her good friend Peter Cook.
That is the jazziest number on the album, which meanders through a variety of musical styles. The bluesy "Panty Song" takes a cheeky look at undergarments while "Peaceful River" invites the listener on a delightful bluegrass canoe ride.
Take Me Anywhere spans more than 10 years of songwriting, which may be why the album goes from strength to strength.
I enjoyed the album so much I promoted it from my office to my car. But I was left with a burning question – who was Leah Morise and where has she been hiding?
"I've sung all my life," Morise said in a phone interview. "For a while I played in an all-girl band and I've done open stages around town, but I didn't focus on music until 2001." That was the year Morise's father died. "Once my father passed away, I thought time is too short. No more excuses, it's time to do it."
The CD is the first step in her journey to pursue a musical career, although Morise hasn't quit her day job as a graphic designer. This spring, she plans to take her music on the road, playing coffee houses, house concerts and festivals throughout Ontario, Manitoba and Saskatchewan.
---
CD Review in Scene Magazine- September 14, 2006
Leah Morise – Take Me Anywhere (Indie)
London singer/songwriter Leah Morise's debut CD is an impressive mix of original songs touching on a wide range of moods. Morise can be serious (Jean), whimsical (Peaceful River), sexy (You Wet My Whistle) and slightly naughty (The Panty Song) in musical settings that cover pop, folk, jazz and blues. Morise has a wonderful voice with hints of Jolie Holland and Maria Muldaur, but still uniquely her own. Clever songwriting in a variety of styles, combined with Leah's delightful voice, makes Take Me Anywhere a very entertaining debut –
Dave Clark — A-.
---
Press Release – CD Release "Take Me Anywhere" – Aug 2006
Leah Morise releases her debut CD on Thursday, August 24 at the Dawghouse Pub, 699 Wilkins St., London. On Take Me Anywhere, Leah takes you on a musical journey through a variety of genres, sharing her stories of love and life.
Her unique blend of folk, jazz and pop transcends musical borders, taking the listener on a singular voyage. The warm liquid tones of her sweet yet powerful voice has captivated audiences wherever she has performed.
Leah's approach to songwriting has an emotional and spiritual sensibility while still allowing her playful (and ever so slightly sexy) personality to shine. Leah has been honing her skills over the years singing and playing in various bands, and decided that it was time to take this next step on her artistic journey. With Take Me Anywhere, she shares her musical talent with a larger audience – and it is sure to take her "anywhere" she wants to go.
---
Article from London Free Press – Feb. 2, 2006
Morise, Brown fill bill at London Music Club
Thu, February 2, 2006
By LORI MASTRONARDI . ANNA COUTTS . BRIAN WONG, SPECIAL TO THE FREE PRESS
Paying tribute to those with double-X chromosomes every week, the London Music Club will play host to local jazzy-roots singer/songwriter Leah Morise. As part of the LMC's Ladies That Play Fridays series, Morise will headline a show in the front room tomorrow night, with another London singer, Allison Brown. Morise is an avid camper, graphic designer and fibre artist, but she's most recognizable as a multi-talented musician. The Londoner (via Chatham) is a fine soprano who has contributed her vocals to musical productions such as Lucky Stiff, and she's also an accomplished guitarist and bassist. Since deciding to pursue music seriously in 2001, she's been performing her brand of quirky folksongs across Southwestern Ontario. With performances on CHRW, Rogers cable and London's New PL, as well as recording a CD that is set for release this spring, Morise is sure to draw more attention this year as a mature songwriter. Demos of some of her songs — including the finger-snapping, cabaret-inspired acapella song Teddy Bear and the sweetly low-key acoustic number Street Light Shining — are available for listen on her website, www.leahmorise.com.
---
Save
Save
Save