Sun Parlour Coffee House Sessions with Leah Morise is now available on their website, YouTube and vimeo channels!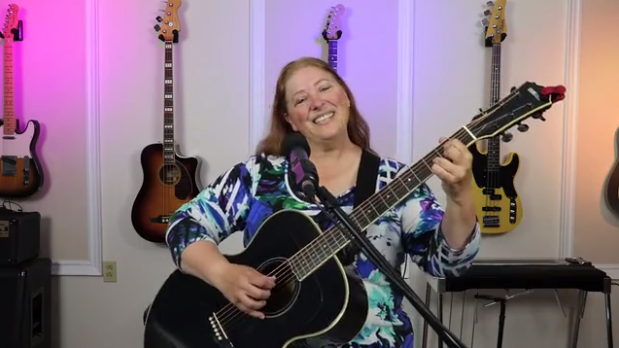 "Singer-songwriter Leah Morise released a lovely live album, "Live At The House Of Harmony" in 2015. The album, which crosses over from folk to contemporary to light jazz features Leah's warm voice on twelve songs that showcase her playful and charming lyrics. The album was recorded at The House of Harmony, the living room of her converted church home in Fingal, Ontario, which doubles as the perfect rehearsal space, recording studio and house concert venue. Leah Morise joined us in the studio with life and musical partner Mike Bourgeault."
---
YourTVWindsor
Leah Morise – a folk/roots music singer-songwriter from Fingal, ON & partner Mike Bourgeault join us for this episode of @sunparloursess @yourtvwindsor February 23 and Saturday February 24 at 11:30pm ch 11 and 700. http://www.sunparloursessions.com  #YQG #tvshow

---
CD Review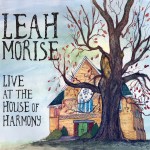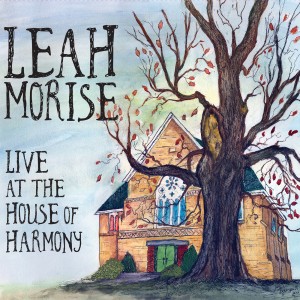 CD Review – Penguin Eggs Magazine
Review by Barry Hammond

Leah Morise
Live At The House of Harmony (Independent)
Recorded at their renovated historic church in Fingal, ON, (near London) singer/songwriter/guitarist Leah Morise and her partner, trumpeter Mike Bourgeault, have put together an atmospheric disc of her songs for her second solo release (following up on 2006's Take Me Anywhere). Recorded and mixed by Adam Plante, who does a nice job of capturing the relaxed, upbeat, informal, fine-musicians-among-friends live setting, the disc has a great sound that lets her playful personality come through. A lot of the good feeling comes from the gently swinging bass of Steve Clark and the sparse, tasteful  drums of Daniel Baerg but Bourgeault's muted trumpet adds unexpected accents that really make some of the songs special. Jim Johnston's acoustic guitar is especially rich on the track Stranded. Morise has a resonant and pleasantly melodic voice with a slight, throaty crunch when she needs it and her songs catch you unawares with their unexpected combinations of words and line lengths so you're always arrested by the individuality of her music. A really ear-friendly disc.
– By Barry Hammond
---

It's Saturday and we're ready to roll at Folk roots Radio with Episode 338 featuring Leah Morise Interview & More New Releases!
Singer-songwriter Leah Morise joined us recently to record an edition of the Sun Parlour Coffee House Sessions. We're pleased to bring that interview to Episode 338 of Folk Roots Radio, alongside three of the six songs she played live for us. As always, we also have a look at some of the latest new releases including music from Reg Meuross, The Eisenhauers, Harpeth Rising, The Sherman Holmes Project, Guy Bélanger, Leah Morise interview and music, Kim Doolittle, Ann Vriend, and Tia McGraff.
LISTEN: http://folkrootsradio.com/folk-roots-radio-episode-338-lea…/
LISTENING OPTIONS- Folk Roots Radio currently airs on CFRU 93.3 FM (Guelph, ON), Erin Radio 91.7 (Erin, ON), 92.5 FM CFBX "the X" (Kamloops, BC), Voice of Bonne Bay – 95.9 and 98.1 FM (Gros Morne, NF), and CIDI 99.1 FM (Brome-Missisquoi PQ).
You can also listen to episodes of Folk Roots Radio, on demand, via iTunes, Mixcloud, Soundcloud, Stitcher and Tune-in Radio.
http://folkrootsradio.com/listen/
---
Summer Festivals

---
Tiny Trailer Video

I am so excited to share my new video with you! I wrote the song before I went on the #tinytrailertour last summer in my 1972 Scotty trailer. Mike shot video of some of the beautiful scenery and edited it together for me. Check it out and share it with anyone who likes vintage trailers or camping or touring or sight-seeing! Tiny Trailer video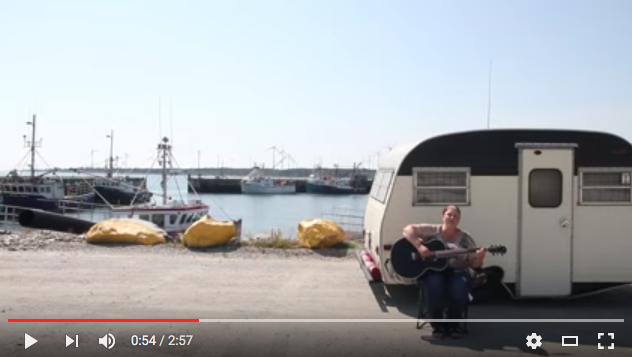 ---
I was recently honoured to be the first "Neighbours and Friends" guest DJ on "For The Folk" with Amanda Lynn Stubley on CHRW 94.9 in London.
I programmed and chatted about my selections for around 40 minutes. The theme I chose was from people who had played a house concert at our house.
It was an exciting new adventure. I could be persuaded to do that again. What fun!
---
Radio
I'm quite excited that I have been receiving radio play across Canada with my new album.
I have played on-air with live interviews on "For The Folk" with both Allison Brown and Amanda Lynn Stubley on CHRW 94.9 in London, and interviewed with Folk Roots Radio (Jan Hall) in Guelph, CKCU Friday Special Blend in Ottawa (Bob LeDrew) and CKXS FM (Greg Hetherington) Wallaceburg/Chatham area. Some of the other radio play that I know for sure is on Just Us Folk (Jan Vanderhorst) on AM 1380 in Brantford, Waxies Dargle CJUM/UMFM in Winnipeg, Deeper Well on CJRT in Regina and on the CBC. If these are radio stations you listen to – you can contact them and request a song from the new album. Thanks for listening!

---
Folk Music Ontario Conference

I just returned from the Folk Music Ontario conference on the weekend. For those of you who don't know what that is… it is an amazing weekend of music, fun, friends, panels, showcases, jamming and schmoozing. A place where artistic expression is celebrated in a way you cannot imagine. I feel so fortunate to have been able to attend and am so full of joy and music. Here are a few photos from the weekend. There is a photo of Mike and I performing for a radio interview on Folk Roots Radio with Jan Hall (photo by Jan Hall), a photo of me participating in a hotel lobby Song Swap (where you are to play a song from another member of the folk community) with Mike and I performing "Your Love is a Ghost Town" by the Crooked Brothers (photo by Shawna Caspi), and a photo of Mike and I performing a showcase of my original music (photo by Manitoba Hal). I heard so many artists for the first time and witnessed powerful songwriters sharing their stories. It is an experience that stays with you a long time. 
---
Award Nomination – Songs from the Heart

Exciting news. Yesterday in the mail I received a letter from the Ontario Arts Council. Although I didn't win, I made it to the 15 finalists for Folk Music Ontario and was one of the 8 top finalists with the Ontario Arts Council for the Colleen Peterson "Songs from the Heart" award for the song "$2 Bill"  from my new CD.
---
What fun we had touring from Ontario to Nova Scotia in our tiny trailer! We really enjoyed the shows and the lovely scenery along the way. We even took a few days to go whale watching (saw 18 whales) and to drive the Cabot Trail. The next CD release show coming up is in Sudbury at Fromagerie Elgin on September 12. We are both looking forward to seeing old friends and catching up with Mike's family.
The album is now available on iTunes if you prefer a download over the physical CD. I have been enjoying radio play on CHRW on several shows (For the Folk, Southern Ontario Comfort, and Uncle Dan's Old-Time Radio Hour) as well as on Folk Roots Radio with Jan Hall. What an amazing summer it has been.
---
The CD is released – let the tour with the tiny trailer begin!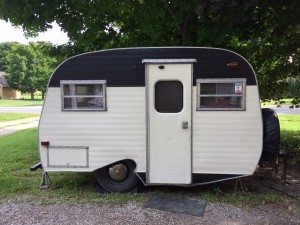 We leave in the morning for the CD release tour – heading to Nova Scotia. We are excited that we will have a bit of time for sightseeing as well and will be checking out the Cabot Trail for the first time. The trailer is packed and ready to go. I will be blogging while on tour and you can follow that at: leahmorise.wordpress.com. I have even convinced Mike to help me take some video while we are away so I can do a music video of the "Tiny Trailer" song.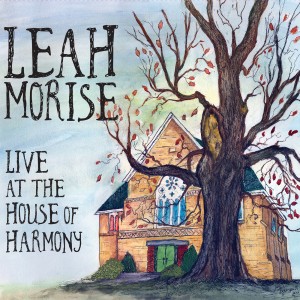 The new CD is now available on CDbaby and should be on iTunes within the week. You can listen to samples of the songs and can purchase a physical CD or digital download. London folks can get a copy of the CD at Grooves Records on Clarence St. If you wish to buy it directly from me – you can come to the next local show we play the Port Stanley TAPas & Grill on Tuesday, August 25 (7-11pm). See ya soon.
---
CD Release!

Things are going great. Reviews of the CD are excellent and I am receiving so much airplay on CHRW. Several differe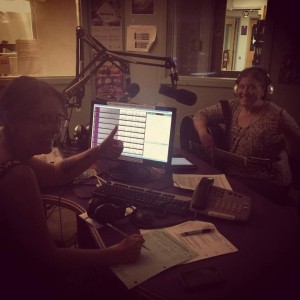 nt shows are playing my songs and I was invited to do a live show on "Southern Ontario Comfort" on Wednesday, July 29th, 2015. Here is a photo from the show with Allison Brown. I was also chosen as James Reaney's Pick for the week of July 23rd and went into the news room to play a song for the London Free Press online edition. See the article here: http://www.lfpress.com/2015/07/22/reaneys-pick-leah-morise-and-mike-bourgeault
Stay tuned
Leah
---
Presale of Leah's upcoming album
I appreciate everyone who participated in the presale of the upcoming album. Thanks so much for your support. April has been exciting with getting ready for everything as well as playing a few shows and doing the Mass In Blue jazz concert at First-St Andrew's United Church. What a great month it has been.
Looking  forward to recording in our church/house in May. I've had a chance to get together with the musicians and go over the new songs. It is quite amazing how I can just describe what I am thinking and they fall right into the groove. I can't wait to share the new songs with you in a few months. Stay tuned!
Here is a quick preview of the day I wrote one of the songs for the upcoming album: https://www.youtube.com/watch?v=B-44TsRPzAE
I am also planning my cd release tour to the East Coast in August. So many excellent things coming up.
Thanks so much!
Leah
---
Welcome to my website. I hope you like it – I sure do! It makes me smile and think of warmer weather. It was designed by my good friend Lionel at Renaissance Monkey Design (http://www.renaissancemonkey.ca/). The background photo was taken by Mike Bourgeault (http://www.mikebourgeault.com/). I find that the look is fresh and easy to use. It gives you the option to find me on Twitter and Facebook quickly as well as look for videos and keep up on the blog. The site also has a place where you can easily sign up for my mailing list.
Tour Plans
I am currently planning the recording of my next album – I know eh? It is exciting! I am scheduling to record in the Spring of 2015 and be touring to the East Coast again in August 2015. I hope to see many of you on my travels. Sign up for updates.
Besides that – I have been keeping busy.  You can see that I have been occupied with an exciting project that takes up much of my time. You can check out what we have been up to at www.houseofharmony.ca. In 2014 we started our house concert series and had a great success with both the musicians and the interest of the audience.
What else have been up to in the last few years?
In 2010 I travelled from Ontario to BC with Allison Brown and Manitoba Hal under the name Dr. Pinkham's Travelling Medicine Show. What an amazing experience that was. We played house concerts, cafes, and bars. We drove through the mountains and I swam in both a hot spring and cold mountain lake.
In July 2011, Mike and I drove to the East coast and toured with Manitoba Hal. What an exciting trip that was. It is the first time that l traveled / toured to Nova Scotia. You can be sure that I will be heading that way again…  You can read and see photos of my experiences on my blog. Please check back (or join the mailing list) to keep up to date with my tour plans.
Thanks so much for stopping by.
L
Save