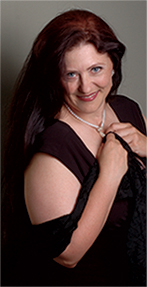 Leah Morise is a folk/roots music singer-songwriter from Fingal, Ontario (near London). Her newest album, "Live at the House of Harmony" was recording in her renovated church home.
BIO
Leah Morise shares her intimate songs and stories with natural light and ease, drawing listeners close with her honest, sweet singing and original songs. With deep, often playful lyrics, Leah illustrates personal and universal emotions using scenes from ordinary life to craft instantly relatable songs. Leah's gentle guitar accompaniment builds the perfect backdrop for her lyrics, performed solo or joined by her trumpet side-man and partner Mike Bourgeault.
Leah embraces big dreams worth following and bravely brings audiences along for the ride with her enticing sense of adventure. "Live At The House Of Harmony" was recorded in May of 2015 at Leah's unique home she shares with Mike; a renovated historic church nestled in the rural village of Fingal, Ontario.
"House of Harmony" highlights Leah's expertise with a variety of genres and metaphors, from broken down cars to trampled carpets to fallen leaves and fallen hearts. Real-life stories of canoe mishaps, tours in tiny trailers and home repair add to the love and laughter throughout the recording.
Leah's song "$2 Bill", a folk-waltz glimpse into the world of a modern hobo and his perspective on life, was nominated for Folk Music Ontario's "Songs From The Heart" Colleen Peterson Award.
---
By turns brash and beguiling, Leah Morise's music is hard to categorize. When asked to describe her sound, she uses the term "genre crossing," a mix of folk, contemporary, jazz and blues. "I never really know in advance what's going to come out. The genre selects me, the songs appear in the style THEY want."
A multi-instrumentalist, this soprano plays acoustic guitar & electric bass. Her mother played the guitar, and Leah got her first guitar at the age of 12. She talks about how life gives you lessons you often don't want: "I used to sing with my mom, and I learned to play by ear. In 1988, my mom got cancer of the larynx. To combat the disease, she had her larynx removed, which meant she was unable to sing. So, in a way, her voice is carried on through me."
But if you should think that this means that Leah's playing sad songs, you'd be mistaken. The former self-described "Chatham farm girl" – now Londoner -is far more likely to laugh than cry, and her music reflects this sensibility. You can hear this laughter and joy in many of her songs; just try to listen to the infamous "Panty Song" without giggling.
She's influenced by everything she hears, from the music at church to random conversations with friends. "When most people are dreaming, I'm writing," Leah says; her muse makes late-night calls, often between midnight and 3 a.m. Inspiration also occasionally hits while she's driving. "I have a tape recorder in my Jeep, and when I get an idea, I'll turn on the tape and start singing. I've got a lot of tapes with road noises on them. I've also had a song come to me when I didn't have the recorder. Those are the days that I get home to telephone messages from myself singing." Like the artist herself, Leah's music is filled with love, humour, honesty, and not a little bit of silliness.
Although she has been singing for a long time, it wasn't until life gave Leah another hard smack in 2001, with the death of her father, that she decided it was time to start pursuing her musical career. "I realized that it was time for me to take a chance. I didn't want to regret not doing this." Since then, she's been performing in musical theatre, playing gigs around London and Southwestern Ontario, and recording her first CD of original music. She's performed on CHRW, Rogers and London's New PL, as well as at the Home County Folk Festival.
When Leah's not writing or performing music, she's often wilderness camping – "it's a quiet getaway where I can connect with nature, and get back to the simpler things" – or appreciating the freedom of travelling by motorcycle. Her other creative outlets include fiber art and graphic design.
Music Memberships
SOCAN
FMO (Folk Music Ontario)
FSA Senior Choir
Quotes
" Leah's songs are refreshing, clever, and instantly memorable. A truly entertaining performer, her sparkling voice perfectly showcases her thoughtful, tender and playful personality. I can't wait to hear Leah's upcoming record!"
Allison Brown – For the Folk on CHRW 94.9 FM, London
"Leah Morise has a sweet melodic voice and has entertained many with her renditions of old favourites and originals. Her original works are clever, meaningful and a lot of fun! She performs well on her own and adapts easily to a full band setting."
Elise Chambers
Board Member, Home County Folk Festival, London
"… a beautiful voice… very sultry"
Sarah from "The Joys"
Taken from a review of the musical Lucky Stiff
"…Dominique Du Monaco (Leah Morise), a sexy cabaret singer whose Speaking French number is a comic highlight. The cast boasts some excellent voices well-suited to musical comedy with Wood, Kudelka and Morise making the most impressive vocal contributions."
Noel Gallagher,
London Free Press