March 23, 2018
starting at 12:00 am

Singer-songwriter Leah Morise recently recorded an edition of the Sun Parlour Coffee House Sessions. Recording including songs and interview can be found at: http://sunparloursessions.com/leah-morise/
The full recording session, interview and "gear talk" will be featured on Shaw's Cable in Windsor – @yourtvwindsor Friday, Feb 23 and Saturday Feb 24 at 11:30pm ch 11 and 700. http://www.sunparloursessions.com  #YQG #tvshow

Until then, we're pleased to bring that interview to Episode 338 of Folk Roots Radio, alongside three of the six songs she played live for us. LISTEN: http://folkrootsradio.com/folk-roots-radio-episode-338-lea…/
OTHER LISTENING OPTIONS- Folk Roots Radio currently airs on CFRU 93.3 FM (Guelph, ON), Erin Radio 91.7 (Erin, ON), 92.5 FM CFBX "the X" (Kamloops, BC), Voice of Bonne Bay – 95.9 and 98.1 FM (Gros Morne, NF), and CIDI 99.1 FM (Brome-Missisquoi PQ).
You can also listen to episodes of Folk Roots Radio, on demand, via iTunes, Mixcloud, Soundcloud, Stitcher and Tune-in Radio.
http://folkrootsradio.com/listen/
---
March 23, 2018
starting at 7:30 pm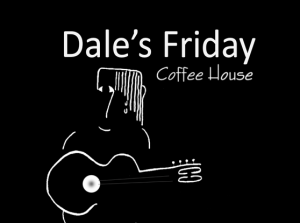 Leah Morise and Mike Bourgeault will be performing a few songs with other musicians on Friday, March 23rd.
Dale's Friday Coffee House usually takes place at The Bank Theatre and Meeting Place in Leamington, Ontario on a monthly basis. However, because of renovations at The Bank Theatre, the new location is Knox Presbyterian Church (Knox Hall) 58 Erie St South, Leamington Ontario.
There is no cover charge, but we do pass the Hat ($10 per person is our wish) for a great evening with the best in local entertainers. Proceeds from the show go to The Bank Theatre and Meeting Place to continue their fine programs of music and theatre.
Come out for a great night of acoustic music, refreshments, and community!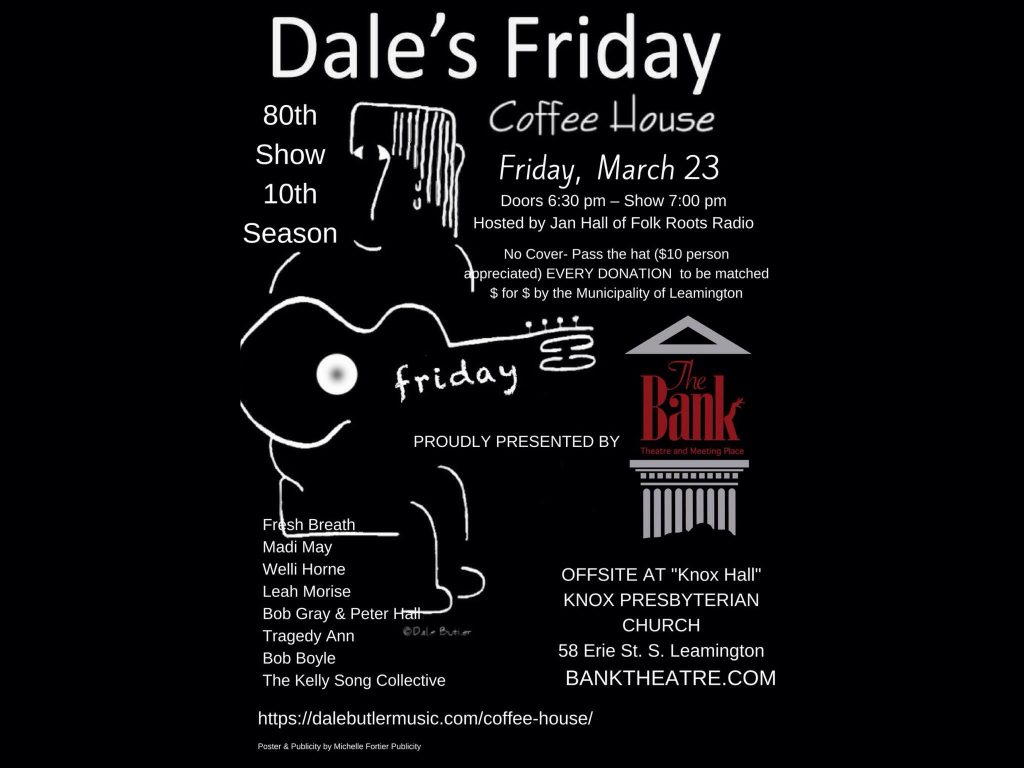 ---
November 3, 2018
starting at 12:00 am
Leah Morise will be sharing the evening with Suzie Vinnick at the House of Harmony this Fall – check back for finalized date. (I have a placeholder of November but this is not the correct date or time.) Sign up for the House of Harmony newsletter to be informed of the date and other details.
---